For amazing Kent wedding fireworks & laser displays call Maidstone 01622 528975
As No1 Kent wedding fireworks & laser display organisers, we'd love to light up your big day. Call Maidstone 01622 528975 & let's get the party started.
Our beautiful wedding fireworks & laser display packages include
A VIP start button – you start the show
Music – your favourite songs included
PA system – we supply the sound

Here is an example of one of our amazing wedding fireworks displays. 
Prices start from  £1495 including VAT for an amazing display professionally fired by our expert team.
A Sky Full of Stars Music & Fireworks Package


If you have a favourite song you'd like to be played alongside your fireworks, we can do it. 
Choose any song lasting up to 4 minutes and we will make it sing and dance in the sky. 
Watch this beautiful example.
Our all-inclusive package is priced at £1795 including sound system, design, choreography, set-up and fire.
Call Aylesbury 01296 752668 or email [email protected] for further vdetails.
Quiet fireworks & laser displays
For venues where noise is an issue we are pleased to be leading specialists in quiet fireworks and laser displays.
Quiet fireworks
To avoid disruption around the area, the venue only welcomes quiet fireworks. Fantastic Fireworks are experts in this field and will put on a display choreographed to your favourite songs. Here's a quiet display we did recently – a favourite among our clients!
Light Up Your Wedding with a Laser Show
Laser shows at weddings are becoming increasingly popular where venues will not permit fireworks. We combine their colour beams with other effects like flame projectors and spark machines to create a fiery alternative to fireworks that make little noise. Please see this eye-popping example
If you're looking to get married in the beautiful county of Kent, we're here to help you choose the best wedding venue. We've featured our favourite locations that welcome fireworks. For beautiful wedding fireworks in Kent the number to call is Maidstone 01622 528975.
Kent has so many beautiful wedding venues. We have chosen some of the best for you to consider.
Chiddingstone Castle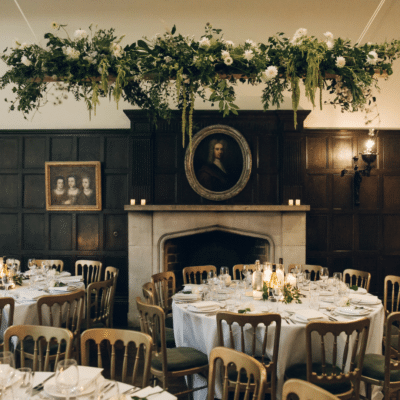 For a romantic Castle wedding venue exclusive for your own use on the day, Chiddingstone Castle is the perfect choice.
The venue is set on the idyllic Tudor village of Chiddingstone and  is complimented by an impressive village gate and lake. You won't find a more picturesque location for your big day.
What's even better is that the Castle is a walking distance from the ancient parish church of St Mary's. This is ideal for couples that are after a traditional marriage service.
Marquee option
Couples can choose from three areas within the Castle premises – the Orangery, the Great Hall and the Drawing room for the wedding breakfast and evening reception.
The majestic Hall features Tudor heritage oak panelling, which makes it ideal for the wet winter months. For couples with a more grand event in mind, the venue offers a marquee option for up to 120 guests.
With years of experience, the team at Chiddingstone Castle help plan your big day down to the last detail.
The venue is only allowed one fireworks display annually, so be sure to get in there quickly and book in advance! We are proud to announce that for wedding fireworks in Kent we are recommended for evening entertainment.
Photo credit: www.chiddingstonecastle.org.uk/
St Julians Country Club
Another outstanding wedding venue is St Julians Country Club.  The manor house sits in acres of beautiful woodlands and gardens, and has astounding views across the Medway Valley.
This makes the location a perfect backdrop for your spectacular Kent wedding fireworks.
The venue beams with old world charm. Its Grade II listed main rooms have French doors that open on to a flagstone and grass terrace where you and your guests can enjoy pre-dinner drinks and canapés.
Wedding fireworks welcome
However, whatever time of year it is, the venue welcomes wedding fireworks.
St Julians Country Club is a family business. The wedding co-ordinators are sisters who each have more than 15 years of experience. They take pride in their work and take a personal interest in you and your needs on your wedding day. One of the two sisters will be with you every step of the way to ensure that everything goes according to plan.
Salomons Estate
Sitting in 36 acres of beautiful grounds near Tunbridge Wells and home to a splendid Victorian Manor House, the Salomons Estate has splendid views across the valley. In our opinion it is the perfect venue for your big day.
Photo credit: https://www.salomons-estate.com/
Moreover with an array of different rooms available for ceremonies and receptions, all with varying decor and size, the venue suits any wedding style or theme.
The three function rooms available include the elegant Gold Room, Drawing room and the grand Victorian Theatre. The former can accommodate up to 65 guests and features a terrace. Here you and your guests can enjoy breathtaking views of the Estate.
The Drawing room can seat up to 100 guests where you can enjoy a spacious wedding breakfast. And finally the Victorian Theatre is ideal for grand events and can accommodate all aspects of your big day from breakfast all the way through to the evening reception.
To get in touch please call us on Maidstone 01622 528975 or email inf[email protected]. We look forward to hearing from you.