For amazing Hants wedding fireworks & laser displays call Southampton 023 800 83236
As No1 Hants wedding fireworks & laser display organisers, we'd love to light up your big day. Call 023 800 83236 & let's get the party started.
Our beautiful wedding fireworks & laser display packages include
A VIP start button – you start the show
Music – your favourite songs included
PA system – we supply the sound

Here is an example of one of our amazing wedding fireworks displays. 
Prices start from  £1495 including VAT for an amazing display professionally fired by our expert team.
A Sky Full of Stars Music & Fireworks Package


If you have a favourite song you'd like to be played alongside your fireworks, we can do it. 
Choose any song lasting up to 4 minutes and we will make it sing and dance in the sky. 
Watch this beautiful example.
Our all-inclusive package is priced at £1795 including sound system, design, choreography, set-up and fire.
Quiet fireworks & laser displays
For venues where noise is an issue we are pleased to be leading specialists in quiet fireworks and laser displays.
Quiet fireworks
To avoid disruption around the area, the venue only welcomes quiet fireworks. Fantastic Fireworks are experts in this field and will put on a display choreographed to your favourite songs. Here's a quiet display we did recently – a favourite among our clients!
Light Up Your Wedding with a Laser Show
Laser shows at weddings are becoming increasingly popular where venues will not permit fireworks. We combine their colour beams with other effects like flame projectors and spark machines to create a fiery alternative to fireworks that make little noise. Please see this eye-popping example
We're here to help so please call 023 800 83236 or email [email protected]
To help you get your wedding plans started we've rounded up some of the top Hampshire wedding firework venues.
Highclere Castle
Straddling the Hants/Berks border Highclere is one of Britain's most renowned historic houses. Best known today as the setting for the hit tv series & movies, Downton Abbey, Highclere is every bride's dream wedding venue.
Their dedicated team of friendly and professional staff are ready to help you with every detail to ensure you have a wonderful day.
Your wedding day will be made all the more memorable with stunning photographs in the Folly, on the lawns or in the State Rooms.
Nestled within the New Forest National Park, Rhinefield House boasts a long enchanting driveway which features Canadian Redwood and Copper Beech trees.
The Country House mansion is the only 4 red star hotel in the Forest and is commonly referred to as the  'Jewel in the Forest'. The venue can accommodate celebrations of up to 130 guests.
Whether it be arranging an outdoor ceremony or hosting a reception, the venue boasts an exceptional service. Professional and experienced staff members will be on hand from the very start to ensure you have a stress-free experience. From helping to choose a photographer, all the way down to the best entertainment.
The green gardens are the ideal spot for an evening of wedding fireworks entertainment for you and your guests.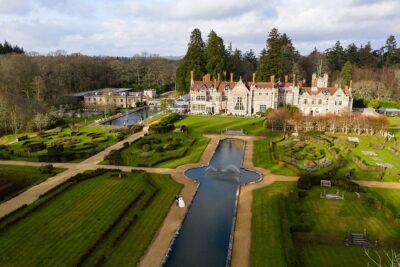 Sandford Springs Hotel and Golf Club 
Set in the beautiful Hampshire countryside, Sandford Springs Hotel and Golf Club offers a great setting for your big day. The licensed wedding venue can accommodate up to 140 guests for wedding receptions and 200 for evening celebrations. 
The Clock House offers a traditional setting for your civil ceremony with a vaulted ceiling and open beams. The function room overlooks the golf course and seats up to 100 guests.
The Club House features the Sandford Lounge, the main reception suite. The lounge has access to the garden and patio area which offers an excellent photo opportunity for you and your guests.
Fantastic Fireworks are a proud suppliers of wedding fireworks to the venue.
Four Seasons Hotel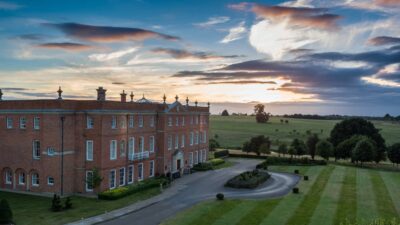 Set in 500 acres of glorious parkland, sits Four Seasons Hotel– a stunning historic Georgian manor. The venue offers a choice of five elegant function rooms and enchanting 18 Century Walled Garden for a unique outdoor ceremonies.
The Wedding Pavillion and Orchard are located in a secluded wooden glade, giving you limitless possibilities for reception drinks and photography! Also the Ballroom entrance is an elegant open space which looks truly magical alight with candles as a 'field of flames' and fireworks in the sky.
Photo credit: www.visithampshire.co.uk
If noise is a problem at your chosen venue we are pleased to offer quiet fireworks as the perfect way not to disturb neighbours and livestock. Colourful roman candles, soaring comets and amazing mines combine to make a beautiful display to match the beautiful bride!
For more information about wedding fireworks in Hampshire please call Southampton 023 800 83236 for friendly and helpful advice.