For amazing Cheshire wedding fireworks & laser displays call Chester 01244 434910
As No1 Cheshire wedding fireworks & laser display organisers, we'd love to light up your big day. Call Chester 01244 434910 & let's get the party started.
Our beautiful wedding fireworks & laser display packages include
A VIP start button – you start the show
Music – your favourite songs included
PA system – we supply the sound

Here is an example of one of our amazing wedding fireworks displays. 
Prices start from  £1295 including VAT for an amazing display professionally fired by our expert team.
A Sky Full of Stars Music & Fireworks Package


If you have a favourite song you'd like to be played alongside your fireworks, we can do it. 
Choose any song lasting up to 4 minutes and we will make it sing and dance in the sky. 
Watch this beautiful example.
Our all-inclusive package is priced at £1695 including sound system, design, choreography, set-up and fire.
Quiet fireworks & laser displays
For venues where noise is an issue we are pleased to be leading specialists in quiet fireworks and laser displays.
Quiet fireworks
To avoid disruption around the area, the venue only welcomes quiet fireworks. Fantastic Fireworks are experts in this field and will put on a display choreographed to your favourite songs. Here's a quiet display we did recently – a favourite among our clients!
Light Up Your Wedding with a Laser Show
Laser shows at weddings are becoming increasingly popular where venues will not permit fireworks. We combine their colour beams with other effects like flame projectors and spark machines to create a fiery alternative to fireworks that make little noise. Please see this eye-popping example
We'd love to help you plan the perfect wedding. We know it can be both exciting and overwhelming. There is a long checklist of things to be ticked off and numerous options to choose from.
To help you get started we have chosen some of Cheshire's most beautiful wedding venues. Moreover wedding fireworks will provide the perfect end to a perfect day.
Conveniently located right on Manchester and Liverpool's doorstep, and with a wealth of history, beautiful towns, villages and countryside, Cheshire is the perfect place for your wedding fireworks.
Of the hundreds of beautiful venues to choose from, we've handpicked a number of the best ones that will not only ensure your big day runs without a hitch but also welcome fireworks.
For more information about our services please call Chester 01244 434910 .
Shrigley Hall Hotel & Spa
Shrigley Hall Hotel, Golf & Country Club is the ideal wedding venue near Macclesfield, Cheshire. The hotel sits on the edge of the Peak District, in the small village of Pott Shrigley. The 262 acres of grounds surrounded by beautiful Cheshire countryside create a truly romantic, picturesque setting to celebrate your special day. Whatever you're looking for, whether it's a fairytale wedding , an intimate celebration, or a civil partnership or commitment ceremony they can help. The hotel is licensed to hold civil wedding ceremonies and has 148 bedrooms, so your whole day can be spent at this stunning venue. The Tilden Suite, located in a converted Chapel, with its striking dome roof and original features from the 18th Century is a unique venue for your special day. While the classically styled William Turner Suite offers ornate chandeliers and French windows, which open out onto the Courtyard for drinks receptions on the patio. Fantastic Fireworks are proud suppliers of fireworks at Shrigley Hall, so if give our Cheshire team a call on 01244 434910 to organise spectacular wedding fireworks at this incredible venue.
Carden Park Hotel – Cheshire's Country Estate
The excellent Carden Park was voted Cheshire's Wedding Venue of the Year in 2018 for a reason. With so much wonderful space to choose from and immaculately kept grounds including golf course and vineyard, everything about Carden Park is unique. This is the ultimate location for relaxation and tranquillity with the capacity to transform and overflow in a crescendo of excitement and celebration for your wedding day. They are professional in pampering with the ideal venue in which to do it. Fantastic Fireworks are proud to organise spectacular wedding fireworks displays at Carden Park. Give our Cheshire Wedding Fireworks team a call on 01244 434910 to organise your firework display today!
Hillbark Hotel
Set in 250 acres of beautiful parkland and overlooking the scenic Dee estuary across to the hills of North Wales, Hillbark's character appearance hides a fascinating history. Hillbark is, without question, one of the Wirral's finest wedding venues. Whether you are planning a small intimate wedding or a larger celebration, Hillbark's unique configuration means that they are able to accommodate weddings of all sizes. They are licenced for civil wedding ceremonies throughout the hall and boast a beautiful outdoor option during those summer months.
Thornton Manor Hotel 
Thornton Manor Estate is an exclusive wedding venue in Cheshire.  Set in 120 acres, it was first built in the 19th century and has been designated as a Grade II listed building. Essentially, whether you are planning a large celebration with hundreds of guests or an intimate celebration with just a handful of close friends and family, they will make sure your day is one to remember. At Thornton Manor they cater for all cultures, whether it is  Asian, Greek, Jewish, Chinese, African or Caribbean to name just a few. Civil ceremonies can be held in a number of locations, from the grand dining room to one of our garden pavilions. Beautifully decorated bedrooms are available in the Manor House for you and your guests.  The perfect way to end your day.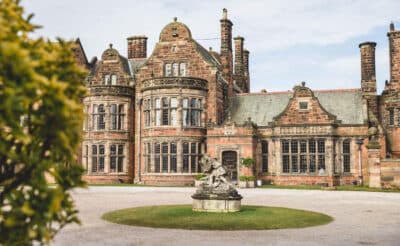 To find out more, give our Cheshire Wedding Fireworks team a call on 01244 434910