For amazing Bucks wedding fireworks & laser displays call Aylesbury 01296 752668
As No1 Bucks wedding fireworks & laser display organisers, we'd love to light up your big day. Call Aylesbury 01296 752668 & let's get the party started.
Our beautiful wedding fireworks & laser display packages include
A VIP start button – you start the show
Music – your favourite songs included
PA system – we supply the sound

Here is an example of one of our amazing wedding fireworks displays. 
Prices start from  £1495 including VAT for an amazing display professionally fired by our expert team.
A Sky Full of Stars Music & Fireworks Package


If you have a favourite song you'd like to be played alongside your fireworks, we can do it. 
Choose any song lasting up to 4 minutes and we will make it sing and dance in the sky. 
Watch this beautiful example.
Our all-inclusive package is priced at £1795 including sound system, design, choreography, set-up and fire.
Call Aylesbury 01296 752668 or email [email protected] for further vdetails.
Quiet fireworks & laser displays
For venues where noise is an issue we are pleased to be leading specialists in quiet fireworks and laser displays.
Quiet fireworks
To avoid disruption around the area, the venue only welcomes quiet fireworks. Fantastic Fireworks are experts in this field and will put on a display choreographed to your favourite songs. Here's a quiet display we did recently – a favourite among our clients!
Light Up Your Wedding with a Laser Show
Laser shows at weddings are becoming increasingly popular where venues will not permit fireworks. We combine their colour beams with other effects like flame projectors and spark machines to create a fiery alternative to fireworks that make little noise. Please see this eye-popping example
Call us today on Aylesbury 01296 752668 or email [email protected] for friendly and helpful advice.
Here at Fantastic Fireworks we have hand-picked some of the best wedding venues in Bucks, guaranteed to make all your wedding dreams come true.
The county has a wealth of  historic houses, exceptional countryside and some of the most beautiful wedding venues in the UK. To help narrow down the wide number of venues available, we've handpicked a few fabulous venues with all the information needed to help you decide.
Danesfield House
For an extraordinary country house wedding reception, Danesfield House Hotel and Spa is hard to beat. Whether you're planning a lavish party for 120 guests or an intimate affair for just close friends and family; the elegant architecture, stunning landscaped gardens and luxurious spa provide the perfect ingredients for your special day.
For larger events and weddings, a marquee in the grounds is the perfect solution. With splendid views over the Thames it will certainly provide a sensational arena for your special event.
The Pavilion at Lane End
Set in 26 acres of vibrant countryside overlooking the Chilterns, The Pavilion at Lane End offers a contemporary setting for your big day. The venue gives couples two options; you can either opt to have your wedding celebrations indoors at the Pavilion or the Garden Gazebo, located on the terrace – both venues are licensed for civil ceremonies.
From the Gazebo, you have access to breathtaking views of the surrounding grounds and it can accommodate up to 130 guests. The Pavilion features large French doors and high ceiling, making it ideal for elegant wedding celebrations of up to 130 people for breakfast and 180 for an evening reception.
Couples can be sure to have all the attention on their big day as only one wedding takes place per day and unlike hotels, the venue is not open to the general public.
The Pavilion is also recognised for their imaginative menus made with fresh, local ingredients. Friendly, experienced staff will also be on hand at every step of the way to ensure your wedding day goes without a hitch.
The venue welcome fireworks for evening entertainment and have Fantastic Fireworks listed as a trusted supplier.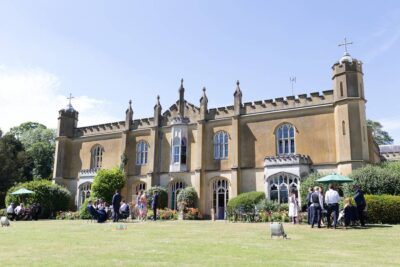 Missenden Abbey
Surrounded by 10 acres of splendid ground, the Medieval Abbey is the perfect romantic venue for your wedding day. Missenden Abbey is licensed for civil ceremonies and partnerships and is available for exclusive use on the day of your wedding of up to 100 guests.
The function rooms are filled with elegant features including beautiful vaulted ceilings and lovely stained glass windows. During the summer months, you can also enjoy canapés and Champagne on the manicured lawn.
Chefs at the Abbey create exceptional dishes and outstanding menus. Along with their warm hospitality and supportive staff, the venue welcome a range of entertainment activities including wedding fireworks.
James and Jo chose beautiful Missenden Abbey for their wedding – with Fantastic Fireworks top of the entertainment!
'Jo has always loved fireworks,'  James told us, 'and and I have to say it was one of the best we've ever seen. So much love for all you did to make a big day so special and memorable. Please pass on our heartfelt thanks to everyone involved.' 
For more information about wedding fireworks in Bucks please call  01296 752668 for friendly and helpful advice or email [email protected]