For amazing Bristol wedding fireworks & laser displays call 0117 321 5430
As No1 Bristol wedding fireworks & laser display organisers we'd love to lightup your big day. Call 0117 321 5430 & let's get the party started.
Our beautiful wedding fireworks & laser display packages include
A VIP start button – you start the show
Music – your favourite songs included
PA system – we supply the sound

Here is an example of one of our amazing wedding fireworks displays. 
Prices start from  £1495 including VAT for an amazing display professionally fired by our expert team.
A Sky Full of Stars Music & Fireworks Package


If you have a favourite song you'd like to be played alongside your fireworks, we can do it. 
Choose any song lasting up to 4 minutes and we will make it sing and dance in the sky. 
Watch this beautiful example.
Our all-inclusive package is priced at £1795 including sound system, design, choreography, set-up and fire.
Quiet fireworks & laser displays
For venues where noise is an issue we are pleased to be leading specialists in quiet fireworks and laser displays.
Quiet fireworks
To avoid disruption around the area, the venue only welcomes quiet fireworks. Fantastic Fireworks are experts in this field and will put on a display choreographed to your favourite songs. Here's a quiet display we did recently – a favourite among our clients!
Light Up Your Wedding with a Laser Show
Laser shows at weddings are becoming increasingly popular where venues will not permit fireworks. We combine their colour beams with other effects like flame projectors and spark machines to create a fiery alternative to fireworks that make little noise. Please see this eye-popping example
Call us today on Bristol 0117 321 5430 or email [email protected] for friendly and helpful advice.
Let us help you plan your perfect wedding
We'd love to help you plan the perfect wedding. We know it  can be both exciting and overwhelming. There is a long checklist of things to be ticked off and numerous options to choose from.
To help you get started we have chosen some of Bristol & Bath's most beautiful wedding venues. Moreover wedding fireworks will provide the perfect end to a perfect day.
Hamswell House
The historic Hamswell House is situated in an enviable location there but is still close to Bath and Bristol, making it easily accessible. Mingle with guests and sip drinks on the terrace by the Orangery before making your way into the marquee for an unforgettable reception.
Wonderful gardens of Hamswell House make it the ultimate setting for a marquee wedding reception. Not only do they offer the beautiful backdrop of a historic manor house with stunning rural views, they also provide exclusive use, a convenient location for Bristol and free corkage.
Hamswell House also welcomes wedding firework displays.
Old Down Estate
The Manor at Old Down Estate has recently enjoyed a £5m refurbishment to make it the wedding venue of dreams.
With lavish bedrooms and bathrooms, sweeping staircases, picturesque gardens and photographic backdrops you're sure to fall in love with it!
You can enjoy the bespoke receptions rooms and indoor/outdoor pools, relax in the stunning orangery and gaze at panoramic views from every window,
As you drift down the sweeping Bath stone staircase revel in the romance of a manor house which you own for the day.
Old Down Estate is also ideal for wedding firework displays in Bristol and Bath.
Clevedon Hall
Nestled within beautiful surroundings, steeped in history, and with exceptional service guaranteed, Clevedon Hall, near Bristol, is the perfect venue for your wedding celebrations.
The venue has everything you could need for your wedding. You could have a large, lavish event with up to 200 guests in the Great Hall or a more intimate occasion in the Snug. You could also have an outdoor event in a marquee on the grounds.
For the night before the wedding you can make use of their lovely cottage then at the end of the wedding day, overnight guests can retire to one of 25 stunning luxury bedrooms.
From the impressive mansion and gorgeous grounds, to the outstanding service from the fantastic team, Clevedon Hall provides the ideal setting for your memorable day.
Clevedon Hall welcomes wedding firework displays.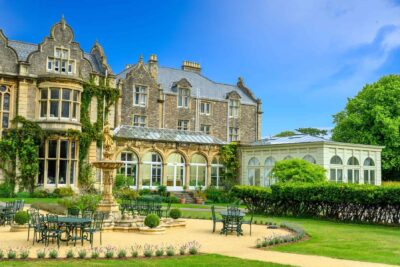 Tracy Park
Tracy Park will provide you with the perfect country house wedding day you always dreamed of. Situated in Wick, near Bath and Bristol, we agree it's one of the most beautiful venues in the area.
This historic estate is set in 240 acres of mature parkland, perfect for those all important wedding photos. And of course, the magnificent Jacobean Manor House itself provides a stunning backdrop to your big day.
It boast elegant function rooms which are perfect for weddings, and there are plenty of wonderful spaces where you can spend each part of your day.
Tracy Park also has 42 opulent en-suite bedrooms that provide all the comforts that you would expect from a luxury hotel.
Tracy Park is the perfect venue for wedding firework displays.
Thornbury Castle
Thornbury Castle. Photo: Hitched
Celebrate your wedding at historic Thornbury Castle.  Located only a few miles from Bristol this 500-year-old castle, once enjoyed by King Henry VIII and Ann Boleyn on their honeymoon, boasts unique character inside and out. From the vineyard where it produces its own wine, to the tapestries, suits of armour and original fireplaces that await you inside; it is hard not to feel like a King or Queen!
Offering intimate packages from £4000, to exclusive use of the whole Hotel; Thornbury Castle is the perfect location for your unique and unforgettable wedding. There is also the option of hiring your own marquee to seat up to 100 guests on our lawns.
The dramatic outlines of the castle creates an unforgettable backdrop for weddings, with its historic Tudor gardens where you can say your vows. The historic Tudor Hall is the largest room. This truly magnificent room boasts an impressive mullioned window, exposed stone walls and intricate tapestries, together with a huge original fireplace. Two further interlinking reception rooms, the Boyling House and the Great Oven, make this a superbly versatile venue for your wedding celebrations.
Thornbury Castle has 27 unique bedchambers for you and your guests to become immersed in the spirit of the place. The suites are ideal for preparing for (and recovering from) the big day. All of the bedchambers are regally decorated and appointed to the highest standard.