For amazing Berks wedding fireworks & laser displays call Reading 01189 117168
As No1 Berks wedding fireworks & laser display organisers, we'd love to light up your big day. Call Reading 01189 117168 & let's get the party started.
Our beautiful wedding fireworks & laser display packages include
A VIP start button – you start the show
Music – your favourite songs included
PA system – we supply the sound

Here is an example of one of our amazing wedding fireworks displays. 
Prices start from  £1495 including VAT for an amazing display professionally fired by our expert team.
A Sky Full of Stars Music & Fireworks Package


If you have a favourite song you'd like to be played alongside your fireworks, we can do it. 
Choose any song lasting up to 4 minutes and we will make it sing and dance in the sky. 
Watch this beautiful example.
Our all-inclusive package is priced at £1795 including sound system, design, choreography, set-up and fire.
Quiet fireworks & laser displays
For venues where noise is an issue we are pleased to be leading specialists in quiet fireworks and laser displays.
Using colourful comets, mines and roman candles we can create quiet firework displays every bit as entertaining as their noisier counterparts.
Light Up Your Wedding with a Laser Show
Laser shows at weddings are becoming increasingly popular where venues will not permit fireworks. We combine their colour beams with other effects like flame projectors and spark machines to create a fiery alternative to fireworks that make little noise. Please see this eye-popping example
To find out more, call 01189 117168 or email [email protected] and get a quote today. 
Here are some of Berkshire's most beautiful wedding venues to choose from.
Royal Berkshire
Set in 15 acres of beautifully manicured gardens, the Royal Berkshire is an elegant Queen Anne house built in 1705.
Offering a balance of relaxed comfort, informal surroundings and impeccable service, the house and gardens are the picture perfect venue for your special day.
This magnificent country house hotel offers indoor wedding ceremonies and civil partnerships from 30 to 150 guests. For those honeymooning abroad, the Royal Berkshire is only a 20 minute drive from Heathrow airport.
Silchester House 
Set on the border of Hampshire and Berkshire, Silchester House is a Grade II Victorian house – perfect for a traditional English wedding. The venue is available for exclusive use and also boasts a luxurious Bridal Suite and a further 13 bedroom suites.
Silchester House is licensed to hold civil ceremonies both inside and outside the property within their available gazebo. For indoor weddings, the Music Room is ideal for wedding celebrations up to 90 guests while the dining room is perfect for intimate parties of up to 24 people.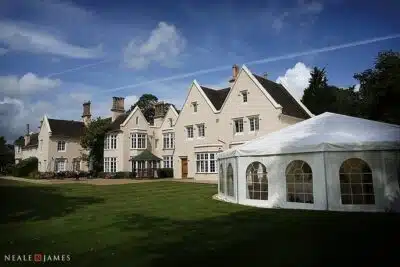 The venue welcomes fireworks and Fantastic Fireworks are a key supplier.
Photo credit: https://www.nealejames.com
Wokefield Park 
Set on 250 acres of Royal Berkshire's finest parkland,  Wokefield Park features a sweeping driveway, manicured lawns and a picturesque lake.
The 18th Century building goes beyond breathtaking beauty and historic grandeur; having been a family home for generations, it has a cosy homely feeling to it.
The Mansion House offers a choice of four beautiful spaces, with a capacity ranging from 60 to 350 guests. For larger parties of up to 350 guests, the sophisticated Maple Restaurant or the sweeping Lake Lawn for a marquee are ideal.
The Palmer and Old Lounge are interconnecting rooms with stunning architecture and stunning views. They're ideal for intimate wedding celebrations.
Sand Martins Golf Club 
Sand Martins venue is a beautiful Georgian style club house in the middle of a stunning golf course. Its large south facing patio makes it ideal for a summer drinks reception and a stunning backdrop for your big day.
The private, air conditioned function suite on the first floor of the venue features a balcony which offers a stunning panoramic view overlooking the golf course.
The space can accommodate for up to 110 guests for a formal reception and 150 for an informal evening reception.
For wedding fireworks in Berks Sandy Martins welcomes them as a key form of entertainment and have Fantastic Fireworks listed as a key supplier; be sure to ask about us!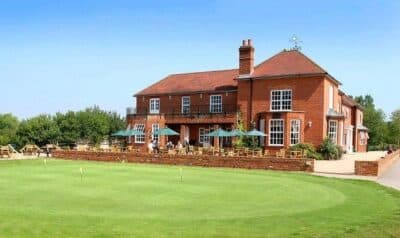 Donnington Grove Country Club
With stunning grounds, enchanting views and a unique character, Donnington Grove Country Club is a truly magic setting for your big day.
But this isn't the only reason why so many couples have chosen Donnington. Everything at the Country Club is aimed towards making your big day run smoothly.
From choosing the perfect function space all the way to ensuring you have the perfect evening entertainment is what the hotel excels at.
Donnington is fully licensed for civil ceremonies and offer three beautiful rooms that can accommodate between 45 to 100 people. All the rooms have breathtaking views of the grounds and featured lake.
The splendid views are perfect for a night sky filled with fireworks. Fantastic Fireworks are proud suppliers of the venue so be sure to mention us.
Call us on Reading 01189 117168 to get a quote today.