Summer is coming round the bend at 200mph!
Posted on May 27, 2013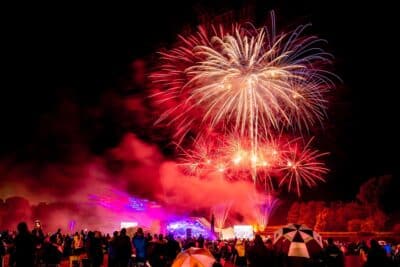 One of the world's greatest sporting events revs up next month and Fantastic Fireworks will be there to make it end with bang. As the leading UK and London fireworks company  we will be lighting up the Isle of Man TT races in Douglas harbour.
The festival attracts competitors from all over the world and their high  performance bikes reach speeds of up to 200mph. We will be trying to keep up the pace with a rapid-fire display of more than 3000 fireworks launched over 15 minutes. It will be a our third TT event and we will be pulling out all the stops to make it the best yet.
The show will be fired from a barge moored 500 metres offshore and our team are praying that the weather stays calm. The show kicks off a busy summer for our fireworks display crews. We will be back at Hampton Court for the Music Festival, Henley for the Henley Summer Fireworks, Warwick for the Warwick Castle Proms and Castle Howard for another Proms night.
Want fireworks for your own back garden or community display? Visit fireworks for sale