Raising the roof at Hatfield House
Posted on September 12, 2011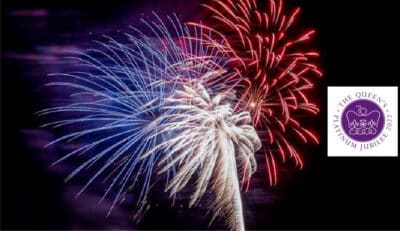 Our biggest fireworks display of the year, and the longest if not the biggest in the country since London New Year's Eve, lit up the Hertfordshire skyline last weekend.
As one of the leading UK fireworks display companies Fantastic Fireworks was commissioned by Lord Salisbury to mark the 400th anniversary of his majestic stately home Hatfield House. The 25-minute display was choreographed to a live performance of Handel's Music for the Royal Fireworks played by The 16 orchestra. The house's south front was lit by colourful moving lights while fireworks erupted from the rear, the roof and the formal gardens at the front.
Our fireworks display designer Ian Woodroof used every nook and cranny of the roof to create some beautifully artistic effects, including an 100ft waterfall hung between two chimney stacks.
Other effects included rows of fountains sparkling along the roof edge and around the central clock tower, lifts of red, green and gold starbursts from the back of the house and lattices of pretty roman candles in the front garden. The display comprised more than 14,000 individual effects which took two days to rig and required a crane to hoist many on to the roof. Once set out, the fireworks were wired into a computerised firing system and ignited on the call of one of our musically skilled pyrotechnicians who was reading the score alongside the conductor.
The display, which was hailed 'the best they had ever seen' by many of the several thousand who attended, rounded off one of our busiest ever summers. From Castle Howard, Kirkstall Abbey and Kenwood to Warwick Castle, Birmingham Artsfest and Hatfield House, Fantastic Fireworks has once again demonstrated its ability to perform at the highest level of professional excellence.
Click here for more information on our display fireworks
Looking to buy fireworks online? Fireworks for sale