Planning ahead with a Firework Display
Posted on August 27, 2014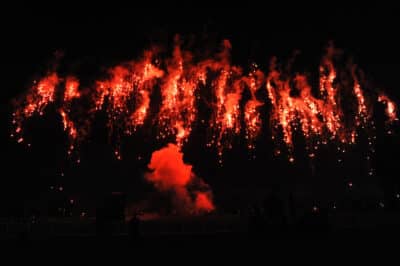 Fireworks for Bonfire Night involve professional firework companies in planning the following year's displays almost the day after November 5th.
With Guy Fawkes night only 10 weeks away here at Fantastic Fireworks we've been working all year on creating an exciting line-up of shows.
These include our showcase production of War horse, the epic First World War story by Michael Morpurgo, to be staged at Windsor Racecourse on Sunday 2nd November. The actor Robert Powell recorded his narration of the heroics of Joey, the star of the story, last May. Since then we have been adding a musical soundtrack, special effects and a stunning fireworks display, ready for the premiere in a couple of months. Full details of how to book tickets can be found at Warhorse fireworks.
Organisers of professional firework displays get little time to relax. Away from planning our November firework displays we've had a manically busy summer, starting with the launch of the Expendables movie at the Cannes Film Festival, moving on to the Isle of Man TT Festival, the Henley Summer Fireworks, the Castle Howard Proms, the Liverpool International Music Festival and rounding off August at Capesthorne Hall in Cheshire with the last of three Rewind Festivals. All that in between lighting up the skies for a summer-long procession of beautiful brides!
To book Britain's busiest fireworks firm for your event call us on 0845 272 3550 or email [email protected]