Organising a safe fireworks display for bonfire night
Posted on September 22, 2016
It's almost that time of year again where bonfires are lit across the UK and the night skies are filled with magnificent fireworks so what better time to talk about all the important things you need to know about organising a fireworks display. And with over 30 years of experience, we certainly know a thing or two about organising displays!
Firework experts
Once you have decided on your location, it is important to get expert knowledge on the suitability of the grounds for fireworks along with the distance required from spectators commonly known as the 'safety zone'. Regardless of whether you intend on having a small DIY display or a large professional show, it is essential to consider the amount of space you have. If you wish to buy fireworks online or from a fireworks shop (these are commonly called Category 2 and 3 fireworks which are consumer fireworks available for sale to the general public), you are commonly advised  on the safety distance, usually at least 25 metres.
However, when planning a large scale display, an expert is require to assess the site and not only evaluate the safety zone but also the fall-out zone; this is the safety distance required on the other side of the fireworks where all the debris lands.  This is important because the show will use fireworks available to professionals only, known as Category 4 fireworks.
An ideal distance between the fireworks launch site and spectators is about 50 metres, but it can be less if the calibre of the fireworks is small, or considerably more if the display includes large calibre fireworks.
Wind direction is another important factor. Ideally you don't want any wind blowing towards your audience as it will carry debris with it, but you may have no choice. Professional fireworks organisers will address such a problem by moving either the display or the audience further back. Rain shouldn't affect the display in the slightest. Professional firework companies will ensure everything is properly waterproofed so everything goes off bang on time.
Depending on the number of spectators it's also a good idea to have stewards on hand, not just to keep them at a safe distance but to watch and warn the display team if any debris is landing near or in the spectator area.
If you're having a bonfire you must ensure that your audience can't come to any harm. Use barriers as shown in the photo below to keep spectators at a safe distance. One vital safety tip here is that you should never, ever throw spent fireworks on a bonfire. Quite often they contain pockets of unfired gunpowder which can suddenly shoot out and cause serious burns.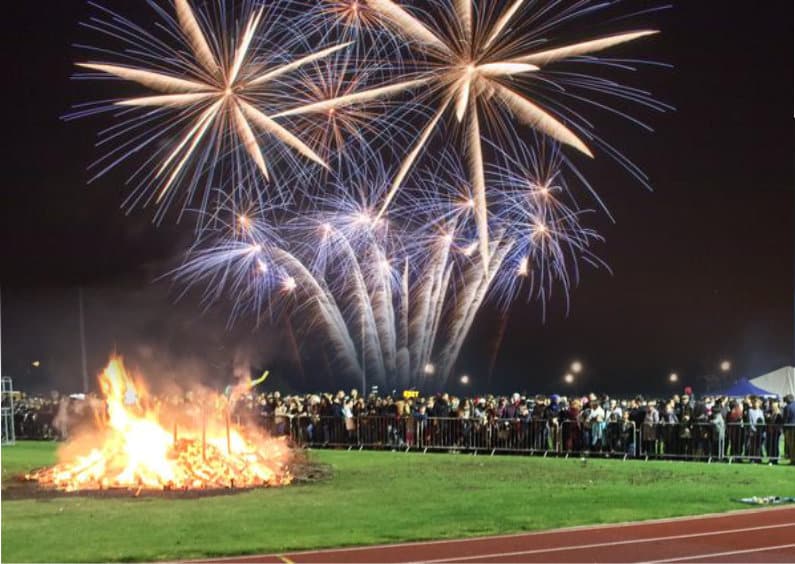 Fantastic Fireworks at Brunel University Bonfire Night
Using a public venue 
It's all great once you have found a venue and you can tick it off your to-do list but when you're planning a public display there are several rules and regulations which you must follow. You must find out who owns the land and gain their permission for using fireworks. The fireworks company you're working with will also ensure that if any local permissions are required, they will take care of them. This might include the CAA if the display is near an airport or the Coastguard if the display is by the sea.
Insurance and public liability 
With an experienced team handling the display, you can be assured that you will be exposed to minimum risks. However, it is important to feel confident that you have everything covered if any problems do arise. A good fireworks company will have insurance in place to put your mind at ease. All displays by Fantastic Fireworks are covered by £10 million public liability insurance.
Raising awareness and selling tickets for fireworks shows 
Now that we have all the safety precautions out of the way, let's talk about getting the show going and selling tickets! A few years ago, we were limited to advertising on posters, radios and magazines. However, the internet presents some really exciting opportunities that cost…well pretty much nothing! The first thing you can do is create an event on your Facebook page to determine the number of people interested in coming along, then raising awareness on any channels you maintain a presence on. The other thing to do is send out an email if you have a mailing list available.
Organising music for your fireworks 
The most important thing is to make sure that you create an enjoyable experience for your guests. At Fantastic Fireworks we create a spectacular atmosphere by adding music to our displays. So if it's a Halloween display be prepared to thrilled and spooked out. For a bonfire night display we recommend upbeat music to get the crowd excited and ready to have an amazing evening! We go back and forth with our event organisers to ensure that the music is perfect.
The aftermath of the evening 
Fireworks are beautiful in the sky but they leave a lot of litter behind. A good fireworks company will make sure they leave you no stress even after the display! As part of our service, we ensure that we clear up as much as we can on the evening of the show. We even offer a 'next day' clear up service to make sure the site is as tidy as we first found it (we're not an award-winning company for no reason!)