Olympics inspire a new generation – of firework fans!
Posted on September 1, 2012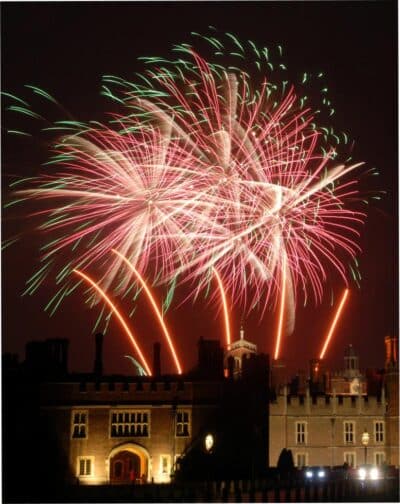 Thanks to the London Olympics, fireworks have never been more popular. Not that many people own a park or stadium as impressive as London's of course. But as the leading UK firework company our phones have been hot with callers wanting firework displays to celebrate their own events. From wedding fireworks in country house hotels to pyromusical spectaculars at Hampton Court and Blenheim Palace August has been a month of truly fantastic fireworks!
One group of overseas Olympics visitors was so impressed by the fireworks display we staged for them at Blenheim that they invited us back to Hampton Court to create a 'closing ceremony' display on the eve of their departure. They wanted to take home a memento of their stay, complete with their own photos and video footage of magic moments at the Olympic Stadium. We devised a Hollywood-style movie spectacular, centred on a giant screen flanked by searchlights, lasers, flame projectors, illuminated water fountains and batteries of fireworks.
As the musical soundtrack opened to the familiar strains of the 20th Century Fox fanfare, the sky erupted in fire and light. The audience applauded as their photos appeared on screen to the iconic Olympics theme Chariots of Fire. The most memorable moment was captured on film when a photographer ran into the middle of what looks like a war zone to snap the faces of the mesmerised guests! It was a night to remember.
Click here for more information on our display fireworks
Looking to buy fireworks online? Fireworks for sale