New dawn, new day, new effects!
Posted on April 12, 2021
It's a great time for all of us as shops, pubs, events and entertainment start to reopen after a year of cancellations and disappointments. But today signals a new dawn and we're ready to attack the day. During lockdown we've been busy expanding our range of visual effects to enhance your event.
Now, we're not just about fireworks. We have teamed up with our affiliate company Laserfire to bring you the full spectrum.
We offer lasers, lights, flames and indoor pyro. All these and other special effects will add extra razzmatazz to your event.
We have developed some new specialities in fireworks too, including
Daytime fireworks for that lunchtime launch, with coloured smoke, parachutes, flashes, whistles and razzmatazz. These effects are perfect for those 9-5 moments when all you need is some colourful clatter to signal the start of a race, the opening of a festival or an outdoor awards ceremony.
Quiet fireworks for venues where noise is a problem. More and more clients are requesting our colourful displays that don't break the sound barrier. They are not completely silent but the pops and crackles that accompany the effects don't carry very far. We are the preferred supplier at venues like Warwick Castle and Knebworth because our quiet displays can be relied on to keep the peace.
Rooftop fireworks for when there's no space down below. Our experienced team have staged shows from rooftops across the country, celebrating events like Christmas Lights and building openings. Providing we can get access to the roof in question there are few places where fireworks aren't possible. The main requirements are to protect theroof with a fire retardant covering and use low to zero debris fireworks to minimise the chances of injury to spectators or damage to the building.
Indoor pyro for moments like award ceremonies or that first dance at a wedding, our 'cold spark' units shoot up a galaxy of silver sparkles that are safe to watch at distances of less than a metre. They are so cold you can even put your hands in them and not feel a thing.
Our other special effects include
Laser shows, a great effect for beaming down a high street for a Christmas Lights event or from a stage at an open air concert
Flame shows create a fiery surprise for any event, day or night, erupting in flaming tongues of fire
Lighting and projections will transform buildings, trees and other structures with an array of colour washes, searchlights, spotlights and video projections.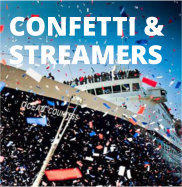 Confetti & Streamers create colourful moments at sporting occasions, award ceremonies and concert finales.
For further information call 01582 485555 or email [email protected]