Here are the firework football results. Premier League. Fantastic Fireworks 6, The Weather 0
Posted on November 5, 2019
It was one of the wettest and windiest Bonfire Night weeks fireworks companies have ever experienced.  But to the credit of our teams, while shows everywhere else were being cancelled, ours all went ahead as planned.
In football terms it was Fantastic Fireworks 6, The Weather 0. Well that's how we'd like to think Charlotte Green would read it on Sports Report.  Fireworks are showbiz and the show must go on. The one that went right down to the wire was at the Premier League football club Southampton where 70mph gales kept the display in doubt right up to the evening 'kick-off'.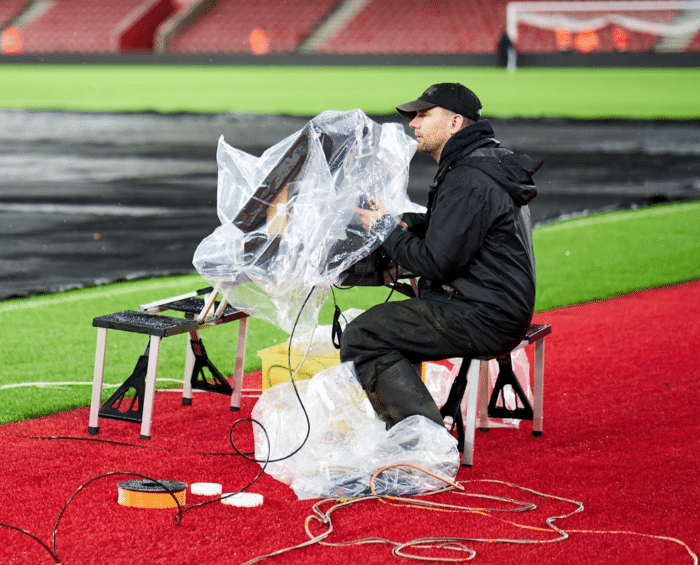 It was the club's first fireworks event in their super stadium and everyone was understandably nervous. Especially Andy Gray, the head groundsman! The Saints' pitch is hallowed turf nurtured to the lushest green by 24/7 LED biolights. But with the protection of a fire retardant cover, trackway and buckets of rainfall it safely withstood the conflagration going on overhead.
Luckily the wind abated just in time and the display, which included lasers and flames, was hailed a great success by the organisers who gave us a 5-star review on TrustPilot.
'Great display. Thank you for meeting the challenge,' said Anthony Cole-Johnson, head of sales.
Pictured here is our head pyrotechnician Matt Bishop hunkered down at Mission Control.
As one of the UK's major  fireworks companies we're always delighted to be invited back to the renowned West Midlands theme park Drayton Manor Park. Here we staged an awesome celebration of the 50th anniversary of the first Moon landing. Watch the highlights here, including a brilliant and eerily realist 'Moon' hoisted 150ft into the sky by a cherry picker!