Celebrating the centenary of the end of the First World War
Posted on May 8, 2017
The First World War was a significant milestone in history. It impacts all our lives until this very day, either through our own family history, the heritage of our local communities or because of its impact on society.
The centenary of the First World War started in 2014 and in 2018 we will be celebrating the centenary of the end of the war in 1918.
We've compiled the top ways you can commemorate the centenary with fireworks.
Warhorse – The Fireworks Display
Warhorse is a children's novel by Michael Morpurgo about the experience of a horse purchased by the army for service in the First World War, and the attempt of his previous owner to bring him back home to safety. This lovely story inspired us to introduce another innovative and magical fireworks production.
In 2015 we put together a ground-breaking adaptation of the novel with a narration by the actor Robert Powell. As you might imagine, fireworks and horses aren't exactly the best combination but we made the impossible possible!
The show was first staged at Windsor Racecourse featuring stunt horses from a local stable and a cast of actors as fireworks burst into flames in the night sky. To our relief, it was a huge success! We would be delighted to replicate this for your event. Watch the trailer here.
Music can stir powerful emotion and the World War One era was filled with morale-boosting songs, stirring marches and elegies for the fallen. The wonderful thing about professional firework displays are their versatility to perfectly suit these events. Here are some ideas for a few songs:
Pack Up All Your Troubles
This is  a famous World War I marching song, published in 1915 in London. It was written by a Welsh songwriter, George Henry Powell under the pseudonym of "George Asaf", and set to music by his brother Felix Powell. The cheery, upbeat marching song is perfect for being choreographed to firewo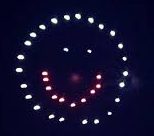 rks, especially with our amazing Smiley Faces!
Mars, the Bringer of War
This was the first of seven orchestral pieces by the British composer Gustav Holst. In ancient Roman religion, Mars was the God of war. Holst composed Mars, the Bringer of War in anticipation of the outbreak of the First World War. The performance is filled with emotion and suspense. It works beautifully with a fireworks and laser show.
Send Me Away With a Smile
A war love song by John McCormack in 1917 and written by Louis Weslyn. It conveys all the sentimental ballads of the period.
For professional fireworks call us on 01582 485555 or email [email protected].