For amazing wedding fireworks in Beds call 01582 485555
Looking for amazing wedding fireworks in Beds? We can help. Our beautiful wedding firework display packages include
A VIP start button – you start the show
Music – your favourite songs included
PA system – we supply the sound
Hearts in the sky – Love is in the air!
Here is an example of one of our amazing wedding firework displays. 
Prices start from only £1295 including VAT for an amazing display professionally fired by our expert team.
We can also set the fireworks to your favourite song as well as many other exciting options.
Click on this image download our latest price guide or call us on 01582 485555 and get a quote today. 
Quiet fireworks
For venues where noise is an issue we are pleased to be leading specialists in quiet fireworks. Using colourful comets, mines and roman candles we can create quiet firework displays every bit as spectacular as their noisier counterparts.
Bedfordshire is crammed with wonderful countryside and delightful towns and villages making it a perfect setting for your big day and your wedding fireworks. Here at Fantastic Fireworks we have narrowed down some of our favourite venues within the location which guarantee to impress you. What's even better is that all these splendid venues allow wedding fireworks enabling you to end your fairytale evening in style.
Tucked away within 1000 acres of sweeping Capability Brown parkland lies Luton Hoo, an 18th Century Grade 1 listed Mansion House. Queen Elizabeth and the Duke of Edinburgh frequently visited the 5-star venue during their early years of marriage to celebrate their wedding anniversaries. So it would seem that weddings at Luton Hoo comes with a certain Royal approval!
The hotel is capable of hosting intimate ceremonies for as few as 8 guests, up to a lavish ceremonies and receptions for up to 120. Its marble interiors and splendid appointed rooms include the spectacular Romanov Suite which features stained glass and icons.
For a unique and tranquil setting, consider their enchanting Warren Weir venue which can cater for up to 290 guests. With panoramic views across  the River Lea and woodlands beyond, a wealth of stunning photographic backdrops awaits you on your special day.
Reflections of fireworks on the River Lea will perfectly complement your evening entertainment and will end your special day in style. Fantastic Fireworks have been proud suppliers of the venue for many years and have provided an array of displays to some of the most exclusive guests
Wrest Park
If you yearn for stunning historic surroundings, mixing elegant French architecture with a grand and picturesque landscape, then Wrest Park is your ideal wedding day location. The 19th century mansion house is set within 92 acres of beautiful parkland. Its grand entrance into the gilded staircase hall creates an impressive tone for the rest of the venue.
The venue offers a selection of six splendid rooms for your big day. The sophisticated Drawing Room and Dining Room are ideal for intimate ceremonies of up to 60 guests. The former boasts original Louis XV features including a painted gilded ceiling and elegant fireplace while the Latter features an appealing dramatic gold and white parquet wood floor and bar area – the room offers the ideal setting for your first dance.
The Library can accommodate up to 100 guests for ceremonies, dining or a drinks reception. The book-lined room is complemented by elaborate gilded plasterwork and offers stunning views from the floor to ceiling windows.
The Orangery is a grand garden pavilion and was once home to some of the largest orange trees in England. The location is ideal for summer wedding ceremonies drinks receptions or evening dinners with a capacity as grand as 170 guests. 
Last but not least, The American Garden Marquee Site is located next to The Orangery and is a fabulous setting for couples dealing with an ongoing wedding list. With a capacity to cater for up to 1,000 guests, you can dine and dance the night away in a magical garden setting.
The stunning lawns, and flower gardens, dotted with fountains, statues and ornate follies at Wrest Park make it the perfect setting for a stunning display of fireworks in the evening. Due to restrictions, the venue only allow quiet fireworks and Fantastic Fireworks are proud to be preferred suppliers.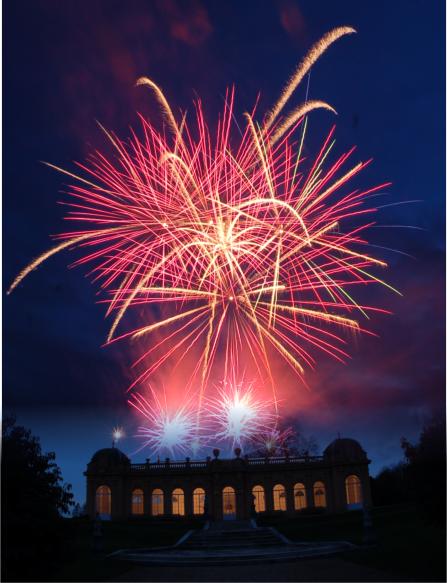 Beadlow Manor Golf & Country Club
Set in 300 acres of stunning parkland, Beadlow Manor is one of the most well-established golf and country clubs. With over 40 years of experience and a fabulous reputation, you can guarantee that your big day will be in good hands and planned to the most intricate details. The venue offers a contemporary setting, first-class facilities to suit your every need and customer service that is unparalleled.
Beadlow Manor is fully licensed to hold marriages and civil ceremonies, and have a dedicated ceremony room. The Manhattan Suite, a large, stylish room overlooking the stunning vistas of the golf courses is ideal for your drinks reception. The beauty of the suite is that it can be used as a blank canvas to create a unique style of your own. Their experienced team have a list of trusted suppliers on hand to that can help transform your dreams to reality. Fantastic Fireworks work closely with the venue to provide breathtaking wedding displays on their stunning parkland.
Shuttleworth Collection
If you want to get your wedding off to a flying start then take off to Shuttleworth. Famous for its collection of historic aircraft Shuttleworth is a 5000 acre estate in the heart of Bedfordshire. It offers a wide range of wedding options all of which are perfect to celebrate your special day.

Built in 1872 with unrivalled views over the parkland Shuttleworth House provides a stunning setting for your wedding day. There are four licensed rooms within The House for civil ceremonies plus The Summer House adjacent to the croquet lawn. The House is a truly perfect venue for both large and intimate weddings alike. With 425 acres of parkland, majestic trees and sweeping views of the countryside, The Parkland is the perfect place to host a Marquee or Tipi wedding.

Suttleworth also boasts a nine-acre Swiss Garden created in the 1820's by Lord Ongley. Its late Regency style design sets it apart from any other English country garden. With picturesque views and features it is a wonderful venue for a ceremony in either of its two licensed venues. The Swiss Cottage sits in the centre of the garden with breath-taking views or for those looking for a magical yet intimate venue, The Grotto & Fernery is simply stunning.

For a truly unique reception venue Hangar 3 is unmatched. With a backdrop of historical Shuttleworth aircraft exhibits and the hangar doors wide open on a balmy summer's day, it really does have the wow factor.

Shuttleworth welcomes quiet fireworks and we are once again proud top be a preferred supplier.