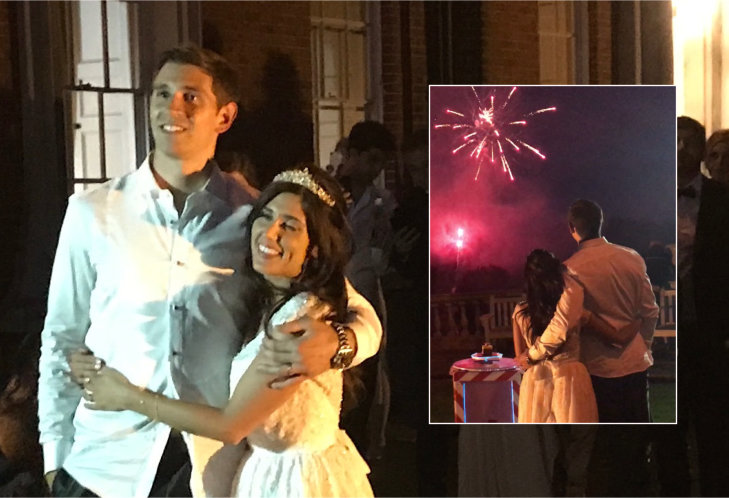 Premier League footballer's wedding surprise!
It's only days before the FA Cup final but there was another big match this week. It was the wedding of the Arsenal goalkeeper Emi Martinez and his beautiful bride Amanda. And we were there to provide a surprise finale.
Amanda stunned Emi with a dream wedding present – fantastic fireworks! It was the best kept secret of their big day at Brocket Hall in Hertfordshire. With many of the Arsenal's Cup Final team among the guests, including Santi Cazorla, Hector Bellerin and Nacho Monreal, Amanda led Emi out on to the terrace and invited him to press our VIP start button.
As a big firework fan Emi was thrilled when the skies erupted! His verdict: Wow what a great surprise. Amazing! The best fireworks I've ever seen!
Setting up the fireworks in secret was all part of the plan as we were under instructions not to give the game away! Amanda, who looked stunning in her white taffeta wedding dress, danced the night away before the dj stopped the party and asked everyone to go outside. Emi, usually a safe pair of hands on the football pitch, looked decidedly shaky as he was led up to our VIP podium. But his face soon lit up when he and Amanda pressed the start button and the skies erupted. One of the highlights was when our beautiful red love hearts appeared, causing Emi to point to the sky in wonderment!
After the show was over Amanda told us 'Emi is a huge firework fan and he was so disappointed when I told him he couldn't have them at our wedding. I wanted it to be a complete surprise so  thanks to you guys for helping me keep the secret from him. The fireworks were amazing and he was thrilled.' And Emi's verdict? 'The best fireworks I have ever seen!'
Watch our brilliant video of the event here