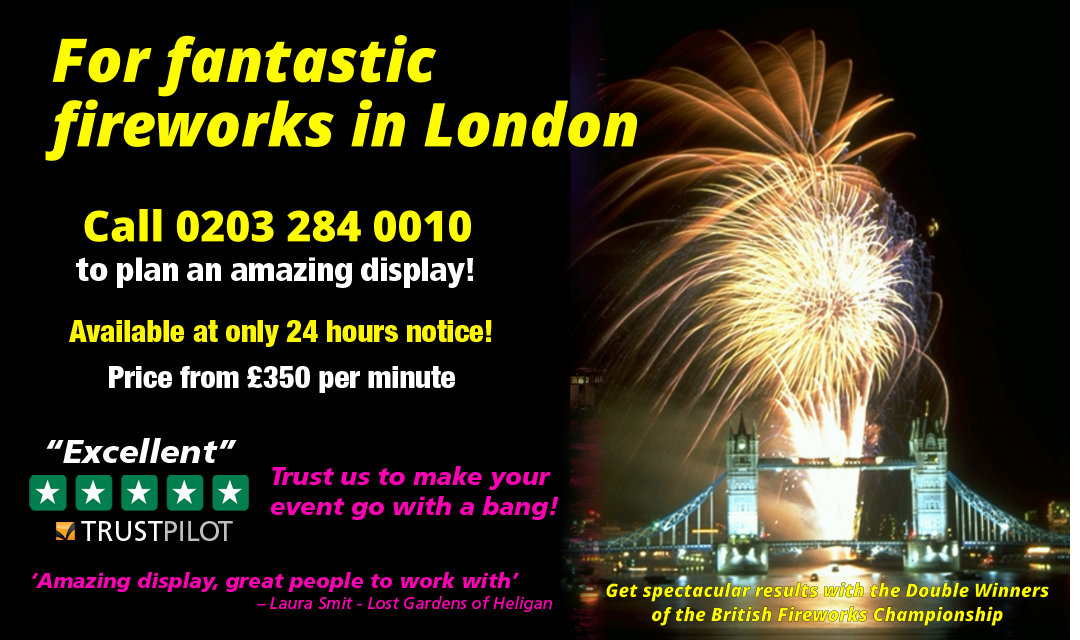 We organise fireworks in London – call 0203 284 0010
We organise fireworks in London. As the UK's double-winning champion fireworks organiser London is where we love to light up the sky.
With our 5-star ranking on TrustPilot you can trust London's foremost firework company to make the party go with a bang!
We'll bring you all the excitement and artistry of the firework displays which have made us double winners of the British Fireworks Championship.
For an example of our awesome displays you must see this!
We take care of everything. Here's what we do:
We'll visit your site
Listen to your ideas and design your display
Set it up and make sure it goes with a bang
Blow your sock off!
In between we'll see to all the paperwork, including risk assessment, insurance and notifying relevant agencies.
We do all the work so you can sit back and enjoy the show!
Take a look at our latest fireworks showreel and choose one you like. Let us customise it to suit your budget and we'll create a fantastic display for you. We can even set it to your favourite music.
It will be amazing!
With 30 years of experience, including renowned events like the Cannes Film Festival, the Henley Royal Regatta and the Isle of Man TT Festival to our name, we bring international expertise to your display. From staging London's first ever New Year's Eve fireworks and its first ever Valentine's Night fireworks to celebrating ITV's 50th birthday and major festivals like the Hampton Court Music Festival and the Hampton Court Flower Show, we are proud to have taken part in many of the capital's most prestigious firework events.
Add in major Bonfire Night fireworks for Lambeth, Merton, Blackheath and Islington, not forgetting a memorable show for SKY TV at Arsenal's old Highbury Stadium and our 30-year history of fireworks in London is top of the league!
Please note that fireworks anywhere in Central London may not be possible owing to space restrictions and that locations for fireworks on the Thames are subject to approval by the Port of London Authority.
As well staging professional firework displays we also offer a fantastic range of fireworks for sale across London, suitable for gardens, fields and parks, delivered to your door.
For further information please email info@fantasticfireworks.co.uk or phone 0203 284 0010.