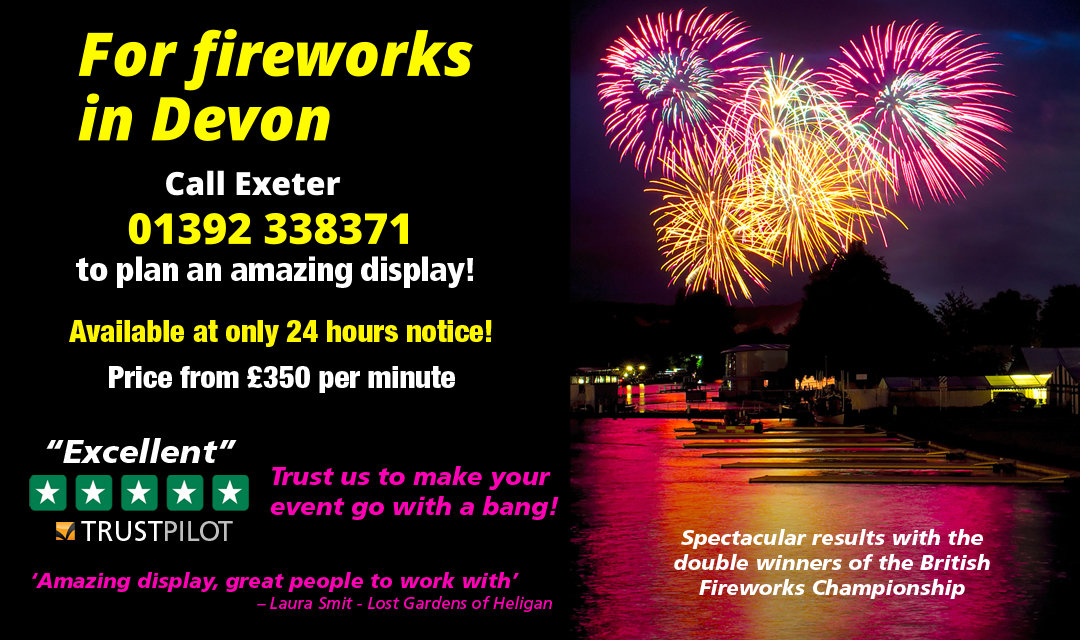 For fireworks in Devon call Exeter 01392 338371
As the UK's most thrilling firework company Devon is our No 1 choice to fire up the night.
With our 5-star ranking on TrustPilot you can trust us to blow your socks off! Have a look at this.
As double winners of the British Fireworks Championship in Plymouth we will make your firework party go with a bang.
Here's what we do:
Visit your site
Listen to your plans
Design your display
Set it to music
Take care of all the paperwork
Set up and fire your show
Wow you!
All this comes with the 30 years of experience and expertise that has helped us win the British Fireworks Championship twice – our winning show is pictured here.
When Britannia Royal Naval College in Dartmouth celebrated its 200th anniversary Fantastic Fireworks provided a stunning fireworks and light show. Event organiser Lieut Russ Williams told us afterwards 'You will always be top of my list when we want fireworks.'
We have also provided summer ball fireworks at the Commando Training Centre at Lympstone, fireworks at Powderham Castle and fireworks for Torbay Regatta.
Take a look at our fantastic firework display packages.Choose one you like and we'll customise it to your budget. Email info@fantasticfireworks.co.uk or call us on Exeter 01392 338371 and start living your dream.
As well as having staged many of Devon's fireworks we also offer a fantastic range of fireworks for sale, suitable for gardens, fields and parks, delivered to your door.